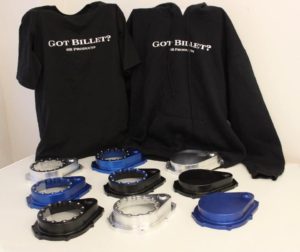 After numerous meetings and conversations, Twangled is happy to announce that we have selected SB Products as our new hardware partner. "Manufacturing a high-quality product requires top quality fixtures and materials throughout the entire build process. Partnering with SB Products ensures that our hardware meets and exceeds our stringent specifications even as we increase the scale of production by 2 or 3 times." Said Gary Burtka, Founder of Twangled.
SB was the company tapped to design and manufacture the new style motor mount plates for RCW as part of their initial product development.  Twangled acquired the extra inventory and designs of these plates as part of the Brawler Division acquisition earlier this year. The new plates were amazing, saving weight and adding aesthetics. Brian and his team at SB have been great to work with throughout the entire process with incredibly fast turnaround times.
In addition to utilizing SB Products hardware in all Twangled manufactured jet ski hulls, SB Products manufactured aftermarket parts are now also available through Twangled. From billet cases, to flywheel covers with see-thru windows, Twangled is your Chicagoland connection to SB Products latest and greatest parts.
About: 
SB Products
 specializes in Custom Machining. Protoype, proprietary, production, small and large quantity runs and is headquartered in Upland, California.