The team at Twangled is very excited to be announcing an Epic new addition to our family. Twangled has recently purchased ownership of some of the assets of Trinity Composites. The Epic replica Generation 2 X-2 molds from Trinity Composites will soon make their way north to the Chicago area to begin tooling up for production under the Twangled factory umbrella. This marks the third acquisition in the last year for the group and gives Twangled the assets needed to continue the expansion and progression of the fixed steer program.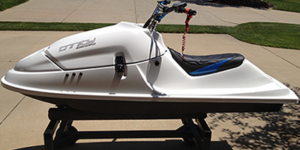 "I started on the X2 back in the late 80s & have always dreamed of a fixed steer hyper ski. The Gen 2 X-2 is the perfect platform for me to apply my combined race and freestyle knowledge. This is truly the beginning of something very exciting for me." Said Gary Burtka of the recent acquisition.
The popularity of this craft both over seas and with seasoned riders makes it a next great step for Twangled as we continue our expansion into the marketplace. "Like the other brands that we have acquired, we will continue to offer the Epic at a similar price point & performance as the previous manufacturer while developing plans for future unique iterations of the craft." Said Burtka.
In addition to the Epic line, Twangled will also take over the development of the project formerly known as the 'Viper Pro.' Twangled plans to finalize the initial tooling and the new name over the off-season.
Stay tuned to Twangled.com for information on how to order and to keep informed of all of the exciting expansion happening at Twangled.