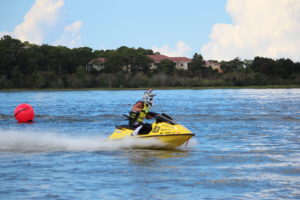 Pensacola Sports Association/Pensacola Beach, Florida has committed to a three-year contract with Pro Watercross, and will host the opening round of the 2017 season. Pensacola has been one of the tour's favorite stops for athletes, and thousands of fans lined Pensacola's sugar sand beaches and crowded the pier over the turquoise waters for the Tour's 2016 Grand Prix of Watercross.
From dozens of the most well-executed hole shots over the past three years, to Daniel Martin's famous double backflip during the freestyle competition at the 2014 Pensacola stop and the 2015 Pro Runabout Stock battles between powerhouse pros Eric Francis, Abdullah Alfadhel and Brian Baldwin. Pensacola Beach has earned its reputation as home to some of Pro Watercross National Tour's most thrilling moments, record-setting performances and competitive motos.
"Pensacola is very excited to welcome back the Pro Watercross Tour not only for 2017, but to also have an agreement through 2019 to bring them back to one of the world's most beautiful beaches," said Pensacola Sports Association President and CEO, Ray Palmer.
The Pensacola Sports Association, the sponsoring organization behind the multi-year partnership, is Florida's oldest sports organizing and management group, and has been the guiding force behind not only the Pro Watercross' presence in Pensacola Beach, but many of the city's other iconic events such as the Charity Challenge and the Deer Dodge 50K marathon.
Securing a multi-year contract with Pensacola, adding to the growing stability of the Pro Watercross brand and its events, is just one more step in the ongoing efforts of Pro Watercross to grow the sport and advance the powered personal watercraft sports industry.
"I am confident in the direction that Pro Watercross is taking, and we are continuing to invest in growing our footprint in North America and around the world while working to discover and groom the next generation of watercross racers," commented Nick Handler, managing director of Pro Watercross.
"The tour's growth is exciting to be a part of for our community," Palmer added after the signing of the three-year contract between Pensacola and Pro Watercross.
"The 2017 Pro Watercross National Tour and Championships season is already shaping up to be a banner year, with tough competition, new events and features to help grow participation in the sport, and a lot of excitement for both the athletes and the fans," said Handler.
Check out the 2016 TV Slot!